For some unknown reasons, the Office of the Accountant-General of the Federation, Abuja, caught fire on Wednesday. According to what we heard, the fire started from around the third floor, burning the building upwards and reaching the Accountant General's office and some other offices.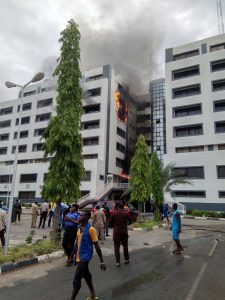 For people who need to understand how important the office of the accountant general is, here's the tea: The Accountant-General of the Federation is the administrative head of Nigeria's treasury. In other words, the key to our country's money bag. Now imagine hearing that the office of the person through which you can access your money bag has burnt down. You get the shock? Exactly.
The building is a six-storey building. The fire, according to reports, started at about 10 am from the fourth floor. They called the fire service quite alright, about 10 minutes past 10 am. The fire services responded within four minutes with three fire trucks.
But… there was 'a little bit of difficulty' getting inside the building because "they thought they should fight the fire both from inside and outside." Anyway, "they eventually broke inside to fight the fire and when they saw the extent of the fire, they called for help and all together 25 fire trucks were used to fight the fire and within 35 minutes, the fire was put under control."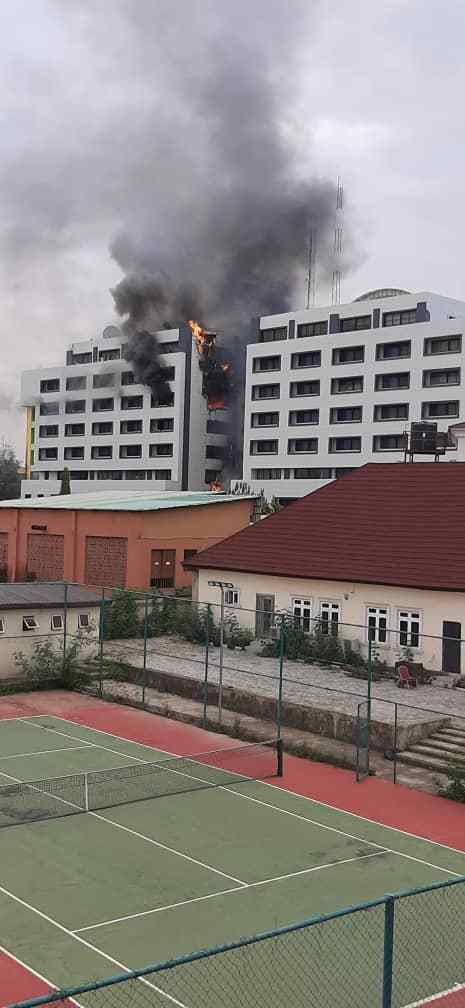 A lot of Nigerians consider this fire incident to be very… strange. Why? Well, the National Assembly demanded that the Federal Government explain how they spent the COVID-19 intervention funds which they claimed to have been disbursed to poor Nigerians.
Let's paint a picture for you.
Federal Government: We have disbursed N20k relief funds to Nigerian households.
National Assembly: Okay, but we need to know how you did it. We need records.
Federal Government: Ah, there's no problem. The records are with the accountant general.
(A few hours later)
Office of the Accountant General: FIRE!
Anyway, Clem Agba, the Minister of State for Budget and National Planning has said there is no cause for alarm. Yes, a few documents were burnt, but they have gone digital so manual documents have been transferred online.
And even if the documents were affected, he claims that there is a backup centre outside Abuja.
Trust Nigerians on Twitter to have something to say. And of course, trust us to bring you some of those things they say. Here you go:
1. Mans is tired of Nigeria.
2. This one who came through with a Nollywood meme.
3. Because anything can happen in this Nigeria.
4. An important question.