How would it feel to have access to free healthcare, especially as a woman in the informal sector? For this article, we spoke to 5 Nigerian women who shared with us the challenges they face with work in the informal sector, and the need for free healthcare to make things easier for them.
*Mrs. Olujimi.
I sell shoes in a very busy market. To make as many sales as I can, I have to be up as early as 6 or 7 AM. It is a fast life, and also very full of stress. I sit in the open space to call out to passers-by who might be potential buyers. I have to jostle with other competitors too.
This spot isn't convenient for me. The weather isn't always favourable, and when you add this to the daily stress of stocking the shoes, waking up early to go to my spot in the market, shouting to beckon customers, the effects on my health can be a lot. I believe that healthcare can go a long way to make a difference.
Ijeoma.
My name is Ijeoma. I sell fabric. Adire and George are the major ones I often stock. For me, I open my shop by 7:30 in the morning. The display of the fabric is what takes all the time. Because of the large sizes, it can take me up to two hours to display all the fabrics.
While displaying, I often force fabrics into the display space to allow for more room. As a result of this, I have a lot of problems with my right arm. The pain slows me down when it hits. It is annoying, stressful, and when it happens, I cannot work at my full capacity. Having access to affordable healthcare will make a difference for me.
Mama Habeeb.
Food is my own business here. Every morning, I cook rice, beans, and spaghetti. I fry plantains, prepare a stew with meat, fish, eggs, and ponmo, then, I head to the market to sell.
It's hard work. Cooking, dishing, and trying to ensure I make a profit. And yes, there are health issues too. Especially with my hands — they do all the job, so they are bound to complain. But then, what choice do I have? I have to press on. You go to the hospital, they charge you for tests and drugs. And it's not like I can choose to buy just any drugs without getting tested to know what is wrong with me. I need better healthcare, but when the money is not available for it, what will I do? Me I have left it to God.
Mrs. Linda.
My trade requires a lot of moving around. I leave the house around 5am to go buy the soup items I'll sell that day. After buying, I return home to rest briefly and shower before I prepare for the day's business at the market.
Falling sick is a major worry because of the stress. The last time I fell sick, I know how much I spent. I wanted to get well quickly, so my business would not suffer it. My children are young and they go to school, so I had nobody to stay in my market spot for me. Despite how sick I was, I had to come to the market so I could raise money for my own treatment. It wasn't a very great experience.
Osas.
My day begins with me arranging shoes on the display rack. The quality and beauty of the shoes displayed are what attract potential buyers to stop by and check out the other things we have on the rack. Sometimes, we have to persuade them. Customers need convincing before they buy and you have to be ready to do it when the situation calls for it, which is everytime.
Hustling is what I do. It is what we all do. And even though we don't plan for it, sickness is definitely going to happen. When it comes, either you have money to go to a hospital or you have to treat yourself. Ordinary drip that you'll call a nurse to come and give you sharp-sharp, it can cost you N5,000 in the blink of an eye. How does one account for that?
Did you know you can nominate a woman in your area to receive access to healthcare coverage?
To celebrate International Women's Day 2021, GTBank is giving 1000 women in the informal sector free access to healthcare coverage. Here's how you can be a part of this: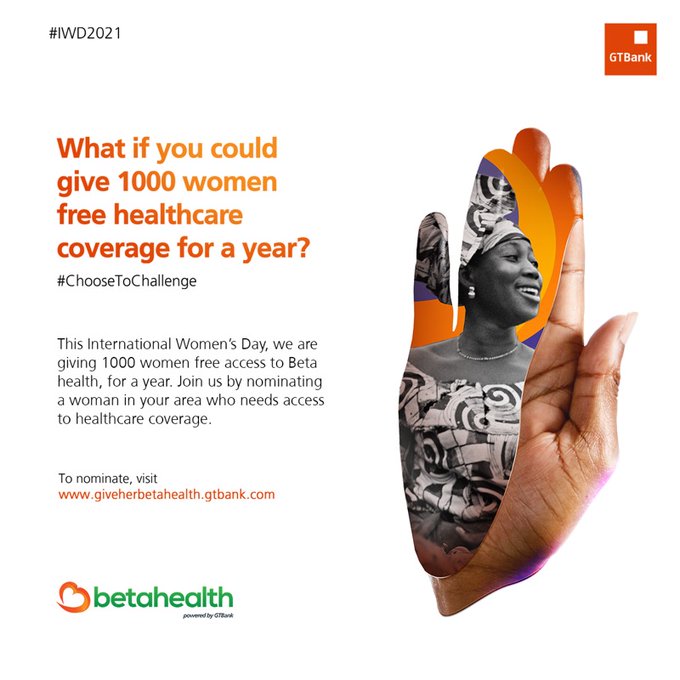 More details below.
*Names have been changed.
*Interviews have been edited and condensed for clarity.
---